The UC Davis Human Lactation Center is well-known for innovative training and continuing education opportunities for physicians, nurses, dietitians, lactation specialists, paraprofessionals, and other health care providers. Over the years, we have learned that it is important to accompany training with useful tools for professionals and paraprofessionals to use with their patients and clients. To achieve this goal, the HLC provides the following products available for purchase.
Click here to see customer comments about our products!
---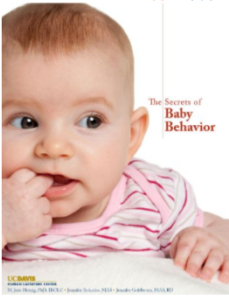 The Secrets of Baby Behavior book is now available as an E-book through Amazon.com! With the same great information and beautiful pictures as the paperback version, the E-book is a great alternative for parents who would like to purchase a copy for themselves or their friends and family! To learn more, visit www.amazon.com and search "Secrets of Baby Behavior" or click here.
**Pricing subject to change due to rising printing costs** (will no longer be available after 2023)
Are mothers in your care confused by their infants' behavior? Do many of these mothers complain that they don't have enough breast milk even though their babies are healthy and thriving? Do you hear that infant crying and waking are common reasons for using supplemental formula or giving up on breastfeeding?
From our work with WIC participants in the WIC Baby Behavior Study, we learned that some of the information used to help participants better understand their infants′ behavior can be useful for non-WIC families too. Our products, geared to a high school reading level, can help support your efforts to keep new moms breastfeeding and prevent overfeeding of infants by today's confused parents.
For more information and to place an order click here.
---
Do you have suggestions for additional products you would like us to create? We would love to hear from you. Send us an Email at lactation@ucdavis.edu