Projects & Services

The UC Davis Human Lactation Center has been instrumental in assessing and addressing barriers to optimal infant and child feeding practices in a broad range of environments. Through coordination, facilitation, and media outreach efforts, Center staff have partnered with a variety of stakeholders, state agencies, and organizations to create realistic steps toward the reduction and elimination of childhood obesity.  
Click here to see comments about working with the Human Lactation Center Staff!
---
Assessing Progress towards Breastfeeding Best Practices in WIC Programs: An Evidence-Based Program Assessment
Spurred by the USDA Breastfeeding Peer Counseling Program funding increase of FFY 2010, the UC Davis Human Lactation Center and California WIC collaborated to create an evidence-based assessment for breastfeeding peer counseling programs. After an extensive review of the current literature related to peer counseling program effects on breastfeeding rates, evidence-based indicators of successful peer counseling programs were identified and a 3-tiered internal assessment evaluating WIC agency breastfeeding services was developed based on the identified best practice indicators. California State WIC convened a Breastfeeding Peer Counseling Workgroup to review the assessment. The assessment was then field tested in 16 different local WIC agencies across Northern and Southern California in Spring 2010. Feedback from the field testing process was incorporated into the final assessment. Completion of this assessment by local agencies will help state WIC program staff identify strengths and weaknesses of current peer counseling programs, target funding, and provide local agencies with best practice goals to move toward as their programs expand.
Results from a cohort of 44 WIC agencies showed an association between total assessment score and exclusive breastfeeding rates.  After controlling for agency caseload, regression analysis results showed that total score on the assessment was significantly positively associated with exclusive breastfeeding rates at 2 months.
---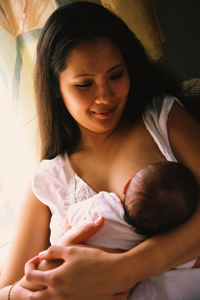 California Breastfeeding Coalition
Using funding from the UC Davis Division of Agriculture and Natural Resources, staff from the UC Davis Human Lactation Center convened a meeting of more than 30 regional breastfeeding coalitions across the state. That meeting, and 2 others convened and facilitated by the UC Davis Human Lactation Center, spurred the formation of The California Breastfeeding Coalition (CBC) which became an independent organization in May of 2006. The CBC serves as an umbrella organization for the regional breastfeeding coalitions located throughout California and aims, through collaborative efforts, to create a more healthful California through the promotion and support of breastfeeding. Visit the CBC website for more information.
---
Promotion of Breastfeeding Friendly Hospital Policies: Annual Hospital Comparison Reports
Although nearly 90 percent of California mothers breastfeed or provide breast milk for their infants during the hospital stay, exclusive breastfeeding rates vary widely by region and among hospitals. Unfortunately, only about half of the breastfed infants in California hospitals receive only breast milk before discharge. The UC Davis Human Lactation Center partnered with the California WIC Association to raise awareness of the vital role that hospital policies play in the support of exclusive breastfeeding and to promote statewide adoption of policies that support exclusive breastfeeding in California hospitals.
Using hospital-level infant-feeding data from the CDPH Genetic Disease Screening Program, which have been publicly available for many years, the HLC and CWA have produced 4 annual reports and related county-based fact sheets highlighting the "gap" between in-hospital any and exclusive breastfeeding rates. The reports and county fact sheets include graphs and tables for visual comparison of any and exclusive breastfeeding rates within each county. Lists of the highest and lowest performing hospitals were developed to emphasize the enormous variability in breastfeeding rates in California hospitals.
The reports have proven useful in creating change, receiving positive press coverage in all 5 major media markets in California since 2006. High performing hospitals took the opportunity to showcase their rates and some low performing hospitals took steps to evaluate their practices and make policy changes. Local coalitions convened meetings with hospital staff and advocates, expanding efforts already underway in the state to improve hospital practices. The California Department of Public Health launched the "Birth and Beyond California" Project, which offers staff training and other technical assistance to qualified hospitals interested in making institutional change.
The reports are available on the California WIC Association web site at http://calwic.org/focus-areas/breastfeeding
---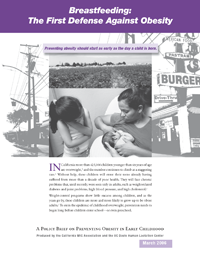 California WIC Association Policy Briefs
As part of ongoing efforts to highlight barriers faced by low-income breastfeeding women, we have created a series of policy briefs in partnership with the California WIC Association. These briefs can be found on the California WIC Association web site or at the links below.
Overcoming Barriers to Breastfeeding in Low Income Women (March 2006)

Breastfeeding: The First Defense Against Obesity (March 2006)

Increasing Exclusive Breastfeeding in WIC: The Power of Peer Counseling (June 2009)
---
Early childhood Obesity Prevention Forum
During the last decade, the staggering increase in overweight among children of all ages has raised alarm among parents, policy makers, and advocacy groups.  Interventions have focused primarily on school-aged children, yet overweight can begin much earlier, even during infancy and the preschool years. On February 7, 2006, the California WIC Association convened the Early Childhood Obesity Prevention Forum to initiate a dialogue among advocates and experts interested in collaborative efforts to prevent overweight among our youngest, most vulnerable children.  The specific goal of the meeting was to develop a broad spectrum of legislative and policy-based interventions to address key environmental factors that contribute to overweight among young children. More than 65 participants attended the meeting, representing public and private entities including academia, health care systems, advocacy groups, funding agencies, professional organizations, state agencies, and regional coalitions. Staff from the UC Davis Human Lactation Center facilitated the meeting and coordinated the writing of the final report and recommendations.
---
Strategic Assessment of the Child Care Nutrition Environment
In 2007-2008, State Superintendent of Public Instruction Jack O'Connell and California Health and Human Services Agency Secretary Kim Belshé convened a Strategic Assessment of the Child Care Nutrition Environment Advisory Group to undertake an assessment of nutrition and physical activity policies and practices within California's child care facilities and preschools. The goal of the project was to identify key areas of change that will improve child care nutrition on a long-term basis. To do this, the California Department of Education partnered with the Department of Health and Human Services and the UC Davis Human Lactation Center to convene a group of experts to review the current scientific evidence, listen to the views and concerns expressed by a variety of stakeholders from throughout the state, and evaluate current programs and activities in order to develop recommendations for actions needed to reduce childhood overweight in California. Results from this assessment were used to develop recommendations aimed at reducing the incidence of childhood overweight among California's young children.  Staff from the UC Davis Human Lactation Center organized and facilitated the meetings and coordinated writing of the summary and results. The Executive Summary and the Full Report are now available.
---
Breastfeeding Promotion Advisory Committee (BPAC) – Breastfeeding: Investing in California's Future
In the early 1990s, the California Department of Health Services (currently The California Department of Public Health ) convened the Breastfeeding Promotion Advisory Committee (BPAC), a committee of breastfeeding professionals and experts from throughout the state. Members represented a wide variety of practice settings, including academia, hospitals, medical practices, managed care organizations, public agencies, foundations, community organizations, and local WIC agencies. As part of their ongoing activities, the BPAC members developed 2 landmark reports, the first in 1997 and another in 2007 (released in 2008). Both of these reports offered up-to-date evidence-based recommendations for increasing the incidence and duration of breastfeeding in California. Staff from the UC Davis Human Lactation Center participated in writing both reports and facilitated the meetings to develop the background and recommendations for the second report. Click here to access the 2008 report.